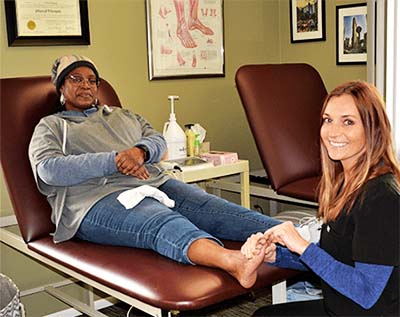 I always knew that bunions ran in my family because my grandmother unfortunately suffered great pain throughout her life. When I developed a bunion on my big toe and it became excruciating to wear shoes and even walk barefoot, I knew it was time to do something about it.
Everyone at Central Jersey Foot & Ankle Specialists was so nice and professional from Dr. Mullin and Physical Therapist Valerie to the front desk and support staff, I knew I made the right decision.
I started out doing PT and even buying good orthopedic shoes, but Dr. Mullin was upfront and honest that I would need surgery to achieve the relief I was looking for. So Dr. Mullin did the surgery and wow was it painful after! But after a couple of weeks and the bandages were removed and the swelling started to go down, things got much better. I started slow working with Val on range of motion and other exercises, and I knew that if I didn't do my exercises at home like she said, it would take a lot longer.
I was concerned before the surgery because I have arthritis and my joints swell, but it didn't affect the procedure. It's been a few months now and I don't have the foot pain when I'm driving and just this weekend, I took a nice walk around the waterfront in Keyport. Its funny how you take walking for granted, but thanks to everyone at Central Jersey Foot & Ankle Specialist - I won't!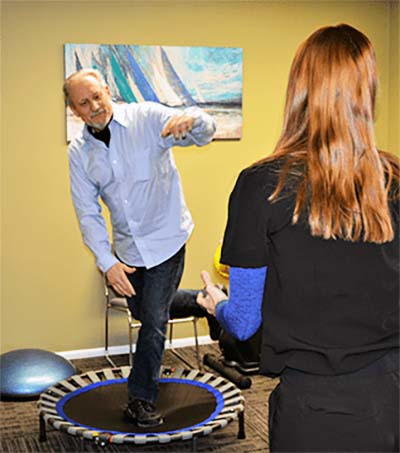 Aching Feet
Ron's Success Story
"I didn't want to be sitting on the couch this summer."
That was the main reason patient Ron, an avid Pickle Ball player, decided to do something about his aching feet. After an X-Ray and MRI, the Podiatrists diagnosed that Ron was suffering from Plantar Fasciitis, a foot ailment that causes sharp, burning heel pain.
In this condition, the tissue band running across the bottom of your foot, the plantar fascia, develops many microscopic rips and then grows highly inflamed. "I didn't want surgery, but the swelling and pain of my foot got so bad I had to take my shoe off at work and hide it under my desk," remembers Ron.
"Thankfully, Dr. Mullin could see that there weren't any torn ligaments and recommend that we get it under control with physical therapy and the proper orthotics." Ron was given a cortisone injection to help with the pain and swelling and began a strict regimen of physical therapy and stretching with in-house PT Specialist Valerie Gregory. "The most important thing that Dr. Mullin and Valerie did was educated me about why I was doing certain exercises and stretches during therapy," according to Ron. "I never warmed up before playing and it really resonated in my mind that the foot is connected to the whole leg. That's why it's so important to stretch before doing any exercise.
During therapy, I performed the exercises and stretches I learned several times a day at home and I made sure I was wearing the proper footwear." Ron is back to playing his favorite sport Pickle Ball, although taking it slow because "you have to crawl before you walk, and walk before you run." "Everyone, from the front desk staff to the doctors and physical therapist, was so involved in my treatment that I could really feel they cared. It was that motivation that helped me make a full recovery and not just plateau like I had done in the past," concludes Ron.
OFFICE HOURS
---
Monday
8:00am - 8:00pm

---
Tuesday
7:30am - 7:00pm
---
Wednesday
9:00am - 4:00pm
---
Thursday
9:00am - 5:00pm
---
Friday
9:00am - 2:00pm
---
Saturday & Sunday
Closed
Central Jersey Ankle & Foot Care Specialists